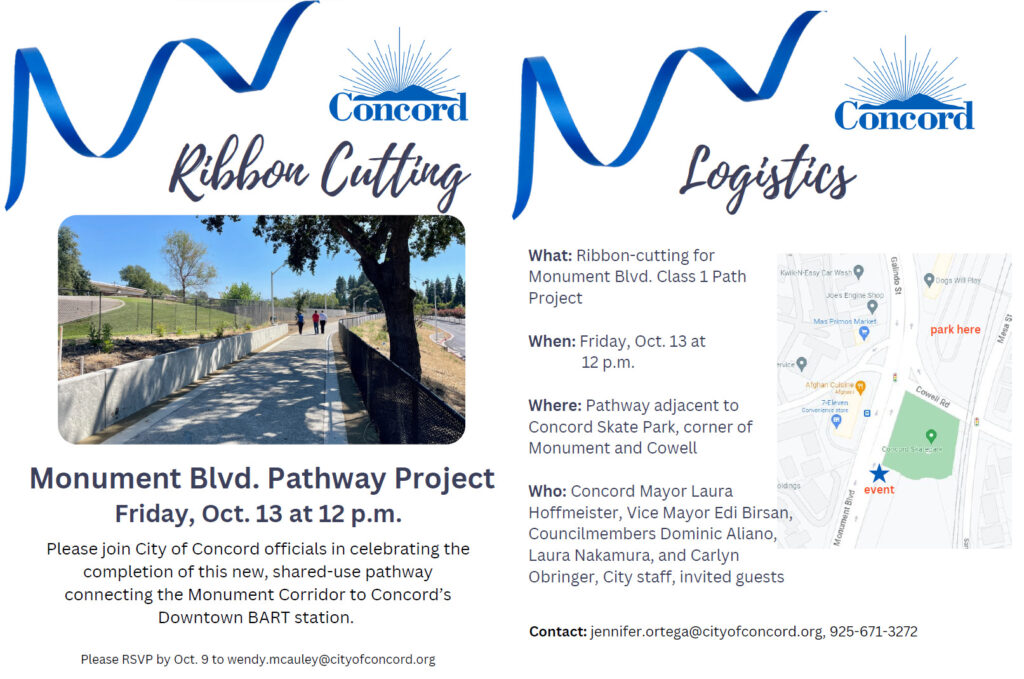 THE CITY OF CONCORD has scheduled a ribbon-cutting event on Friday, Oct. 13 at 12 p.m. to celebrate the completion of the Monument Boulevard Shared Use Pathway project
When:
FRIDAY, OCTOBER 13 AT 12:00PM
Where:
PATHWAY ADJACENT TO CONCORD SKATE PARK, CORNER OF MONUMENT AND COWELL
About the Project:
The Monument Boulevard Class 1 Path project built a bicycle and pedestrian connection to the Downtown Concord BART Station from the Monument Corridor. This includes the construction of a shared-use path along the east side of Monument Boulevard between Cowell and Systron, as well as signalized intersection improvements for safety.
This $5 million project relied on a $4.3 million "One Bay Area" grant — a program that the Metropolitan Transportation Commission adopted in 2012 to better integrate the region's federal transportation program with its Sustainable Communities Strategy (SCS). The SCS aligns regional transportation planning with land use and housing in order to meet state greenhouse gas reduction targets.
The Monument Path project, which is approximately 0.4 miles in length, includes additional features, such as pervious (porous) pavement, bio-retention areas, and landscaping improvements that support the environmental sustainability aspects of the program.