(One grocery bag, or less)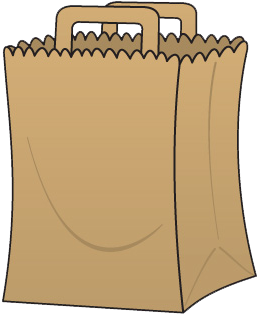 A quick run to the store (one grocery bag worth) can usually be accommodated by a large backpack or messenger bag. However, carrying that weight on your shoulders can eventually become a pain in the neck, literally, while also adding to a not so pleasant condition we will refer to as "sweaty back".
As an alternative consider installing a front or rear rack and basket on your bicycle to take that weight off your body and allow you to enjoy the ride more. Most bike rack manufacturers advertise a rating as to how much weight their products can safely handle, so keep the maximum amount you might want to carry in mind when shopping for one. Some large handlebar bags or seat bags can be attached to your bike without a rack, but will not be able to handle as much weight.
IMPORTANT

 

NOTE

: Hanging a bag from your handlebars is a bad idea and should be avoided, as it will affect your steering and may get in the way of the brakes or front wheel, causing you to crash.
(Two grocery bags, or less)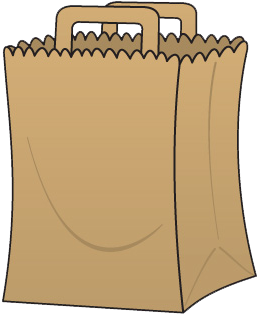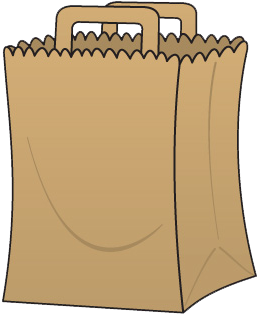 A medium sized load (two grocery bags worth) is also better off carried via some other option attached to the bike and not your body.
Side panniers: These are saddle bags for your bike, which can be attached to a front or rear rack on each side of your bike's front or rear wheel. This option puts the cargo low to the ground and centered, which keeps the bike very stable even when carrying lots of weight. Different panniers use different methods for attaching to a rack, however, so make sure when puchasing them that they work with the rack you have, or vice versa. Some panniers like the ones shown here have an open top, which works fine but won't protect your stuff from rain. Others have a top that closes over your cargo, or a roll-top which allows for a more flexible amount of carrying capacity.
A large milk crate: Some milk crates are large enough to accommodate two grocery bags (or one dog), but if you go this route make sure it is fastened extra securely to your rear rack, and that the rack is rated to handle this much weight.
A front rack plus a rear rack with baskets: Baskets are a great way to be able to throw stuff onto your bike without thinking much about it. An added bonus is being able to reach items stowed in your front basket without even getting off your bike! However, if you will be carrying small items consider putting some sort of lining inside so that nothing falls through and gets lost. Also, having the weight centered up higher on your bike than with panniers makes it a bit less stable, so once your bike is loaded up make sure to take it slow at first and give yourself a chance to feel how it handles before taking off, so that you can compensate for any differences.
(Three grocery bags, or more)
For big loads (three+ grocery bags worth) a trailer or specially-designed cargo bike is the way to go.
If you need to carry cargo and/or kids there are some great options from Xtracycle or Yuba Bikes, both of which are based in the Bay Area. Another option is a Bakfiets, A Dutch-style freight bike with a big wooden box on the front into which can go just about anything. Or, if you don't want a dedicated cargo bike many detachable trailers can accommodate both a child and a few bags of groceries, but look for one with a solid (not just fabric) floor. Click here for more family biking resources.
Lots of larger cargo trailers of the pre-made or DIY variety are available on the market these days, such as this model from Bikes At Work that we here at the Bike East Bay use to haul gear to many of our events around the East Bay
Definitely try before you buy when shopping for a cargo bike or trailer. A list of Bike East Bay-supporting bike shops in the East Bay which give discounts to Bike East Bay members (most of which carry cargo bikes, trailers, racks, panniers, and other gear for carrying stuff by bike) can be found online here. Not yet a member? Join online by clicking here and start getting discounts and other member benefits right away!
Bonus Tip:
Almost anything can be secured to a bike rack or trailer with just a couple strategic bungee cords. Or, just keep a couple old bike tires with your bike at all times, which can be used as flexible tie-downs whenever you need them. Give your bike a jiggle before taking off to check that everything is attached securely.