Earlier this year the East Bay won over $300 Million for bike/walk projects from federal, state, and regional grant funding sources, and now another $235 Million has been awarded thanks in large part to Alameda County's 2014 transportation Measure BB that we helped win, and the statewide SB1 gas tax in 2017.
Some highlights from the Measure BB and SB1-funded projects are provided here, with the complete list of East Bay projects below.
West Las Positas Blvd in Pleasanton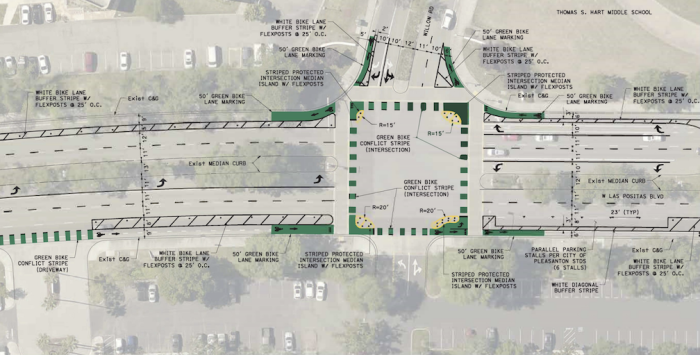 In 2022 we and our partners with Bike Pleasanton helped win approval at City Council for both a quick-build post-protected bikeway on a half mile of West Las Positas Blvd from Hopyard Rd to Hacienda Dr to be delivered with paving (shown above), as well as a follow up full-build concrete-protected bikeway over 2 miles "once funding is available". The good news is that the quick-build bikeway has already been delivered, and the even better news is that the full-build has now won $9 Million in Alameda County Measure BB funding to proceed to construction!
27th Street in Oakland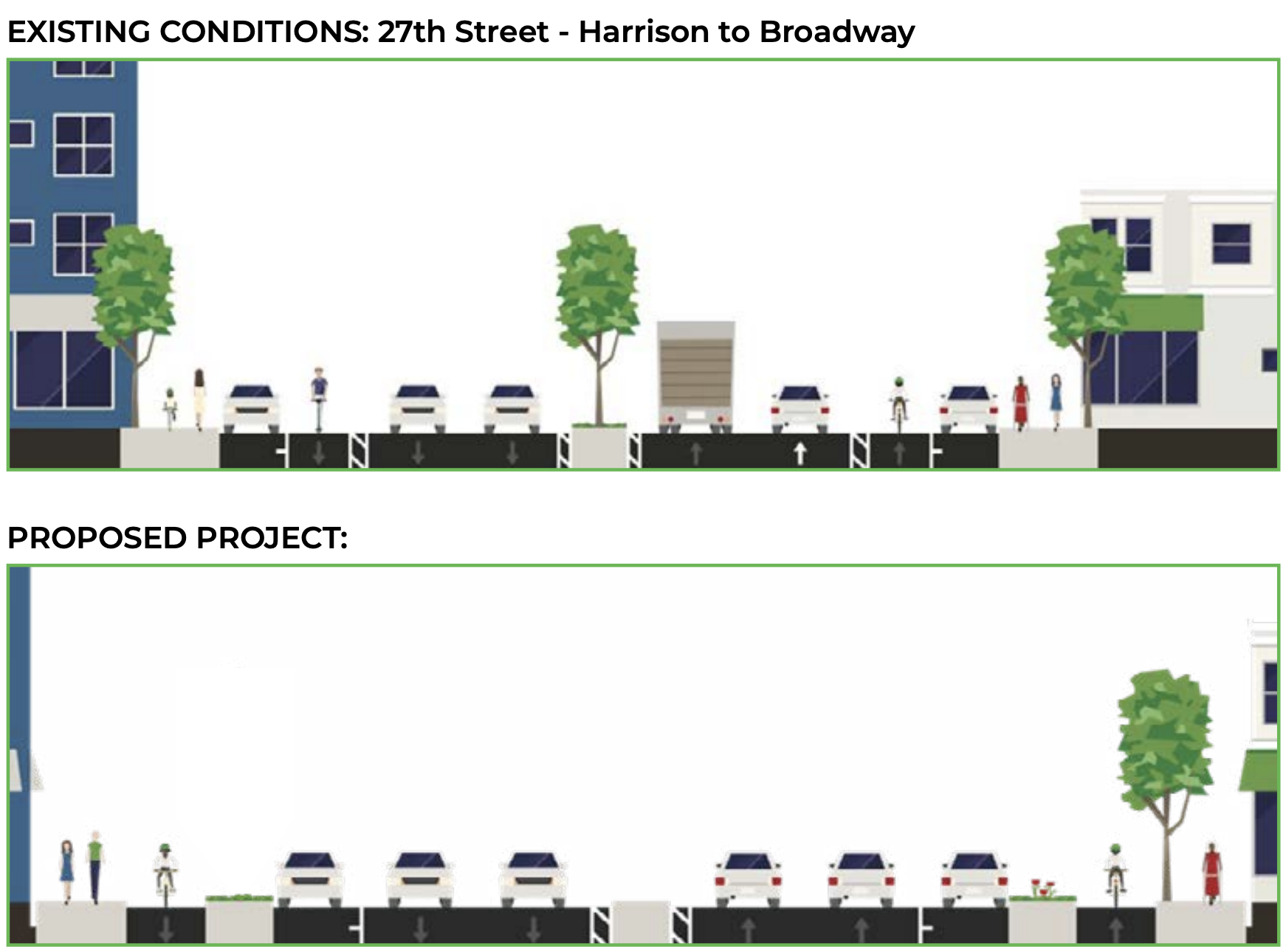 Part of 27th Street was among Oakland's first protected bikeway upgrades in 2019, but only in one direction and for one block east of Broadway as part of a housing development project. Now Oakland has received $8.3 Million in county funding to upgrade and extend this protected bikeway in both directions between Telegraph and Grand Ave, also including concrete protected intersections. The project will connect to additional protected bikeways (info here) in the works on Harrison Street, Grand Avenue, Telegraph Avenue, Lakeside Drive, and 20th Street.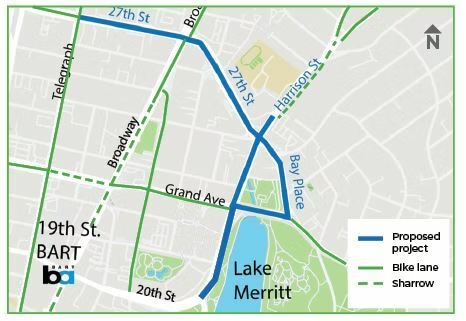 40th Street in Emeryville
This very exciting project was awarded $8.4M in funding to construct both a 2-way curb-protected cycletrack on the north side of 40th Street between the Oakland border at Adeline and the entrance to the Bay Bridge path near IKEA, as well as bus-only lanes (info here). This project is expected to go to construction in 2024, and will intersect with the San Pablo Ave protected bikeways and bus-only lanes project in the works separately from the Alameda County Transportation Commission.
Eventually Emeryville plans to extend the protected bikeway further north on Shellmound Street to connect with the existing Christie Ave cycletrack (Phase 2 shown in the map below). Oakland also has a paving project on their part of 40th Street to MacArthur BART in a few years, and we will be advocating for an extension of Emeryville's protected bikeway treatment.
East Bay Greenway in Oakland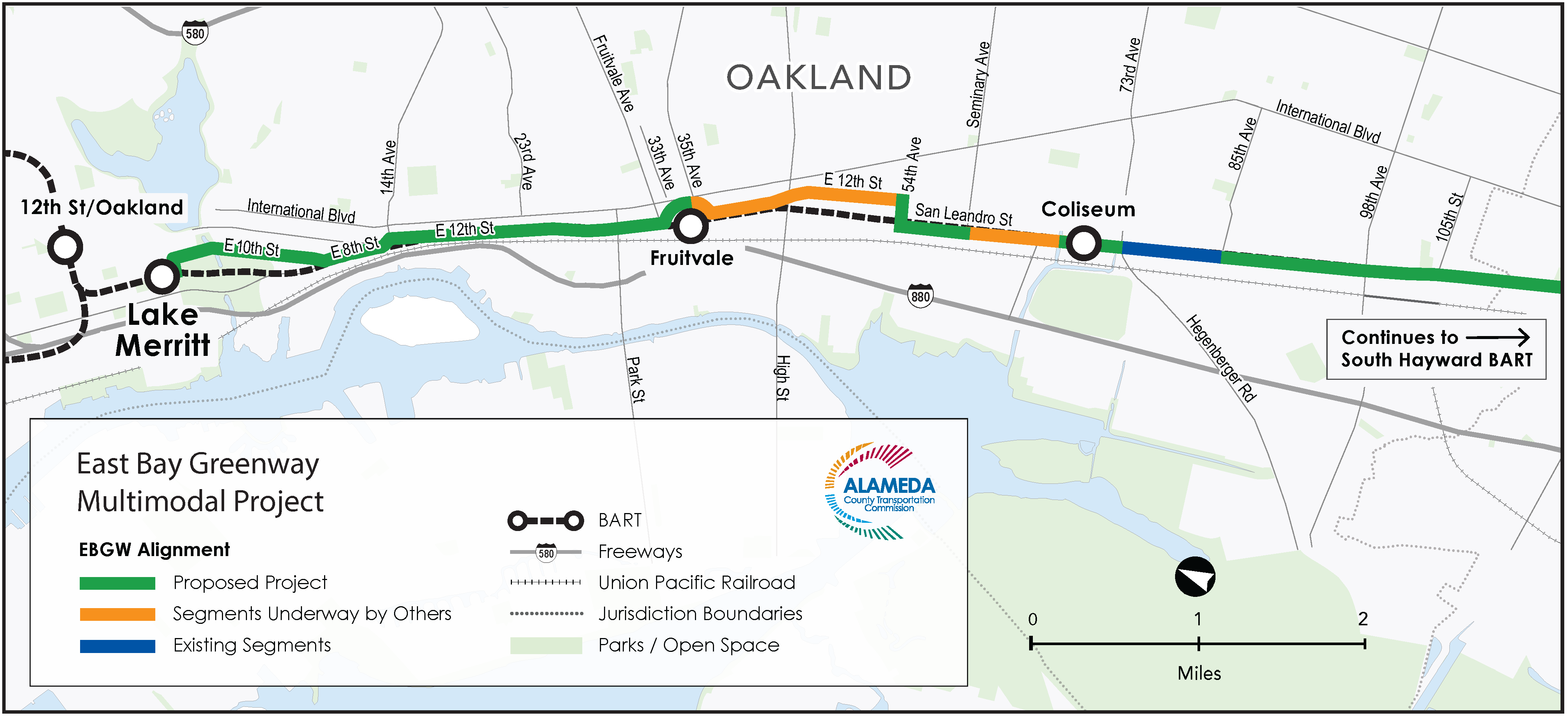 The East Bay Greenway (project info here) is a proposed combination of on-street protected bikeways and off-street trails running from Oakland to South Hayward, with connections to BART, schools, and business districts. A future phase will extend the corridor further south to Fremont.

This latest grant award includes $40 Million in SB1 gas tax funding to enable final design and construction of the entire Oakland section between Lake Merritt south to the San Leandro border, along E 10th Street, E 8th Street, E 12th Street, and San Leandro Street.
Grant Funding Awards
Alameda County Measure BB & other county funding
City of Alameda

 

Lincoln Avenue/Marshall Way/Pacific Avenue Corridor Improvement Project – $567k – Project info here
Dublin

 

Dublin/Pleasanton BART Station Active Access Improvements – $8.4M – Project info here

Tassajara Rd Improvements from N. Dublin Ranch Drive to Quarry Lane School – $1M
Emeryville

 

Doyle Street Bicycle Improvements – Phase 3 – $354k

Emery Go-Round Operating Expenses – $1M
Piedmont

 

Piedmont Pedestrian Safety Project – $500k
Fremont

 

Fremont Boulevard/Walnut Avenue Bikeway Project – $1.1M
Oakland

 

AC Transit High-Priority Bus Stop Improvements – $1.8M

Bay Trail Extension – $1.1M

Fruitvale Corridor AC Transit Improvements – $1.7M

LAAMPS (Mills College, MacArthur Blvd protected bikeway) Phase Two – $1.2M – Project info here

Lake Merritt BART Transit-Oriented Development – Oak St and Fallon St protected bikeways, raised crosswalks, protected intersectison – $7.8M – Project info here

West Oakland BART Transit-Oriented Development – 7th St and Mandela Blvd protected bikeways, 18th St bike lanes, BART bike room – $8.4M – Project info here
San Leandro

 

LINKS Shuttle operations – $331k
SB1 Gas Tax Funding
Have questions about any of these projects? Contact our Advocacy Team for info: BikeEastBay.org/Contact