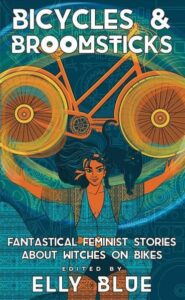 November 2023 We Bike Book Club
What better way to spend #spookyszn than reading an anthology of witchy short stories?
For our November 2 meeting, we'll be discussing "Bicycles & Broomsticks: Fantastical Feminist Stories about Witches on Bikes," edited by Elly Blue. If this collection is similar to other bike fantasy/sci-fi titles from Microcosm, we are in for a treat! 
About We Bike Book Club
The We Bike Book Club is a joint book club run by OPL and Bike East Bay. Started by Bike East Bay as part of their Women Bike program, WBBC is a community of people who celebrate bikes, books, and a more inclusive bicycling culture. We focus on voices and stories historically underrepresented in traditional bike culture, and occasionally expand our scope outside of biking to explore other related topics and stories.
We Bike Book Club meets online on the first Thursday of each month at 6pm. Co-hosted by Oakland Public Library and Bike East Bay.
To RSVP (and receive the Zoom link), please fill out the form below.
Zoom link will be shared the week prior to the event.