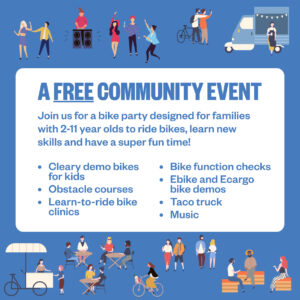 Bike.PHE Family Fest & Swap is coming! It's an awesome community event of bike riding, vendors, fun, and food!
When: Saturday, October 14th, 10AM to 2PM
Where: Pleasant Hill Elementary, 2097 Oak Park Blvd, Pleasant Hill, CA 94523
What to expect? There are 2 parts to the event: the Festival and the Swap.
For the Fest:
We will have a number of stations for kids to visit and earn stamps on their passport and CHARMS! Every child who comes gets a free raffle ticket to enter to win items from Mike's Bikes, WheelKids, Honeystinger and more! And for adults there will be Ecargo and Ebike demos to try out with Mike's Bikes on our car-free blacktop! Other fun things to do:
-Ride obstacle courses (we have 2 available based on abilities from Cleary Bikes and WheelKids)
-Learn how to make basic fixes on your bikes
-Get a proper function check from our free mechanic station with First Mile Cycle Works
-Decorate bikes with reflectors
-Food trucks and facepaint
-Tons of fun for 2-11 year olds!
For the Swap:
Need to upsize your bike? Use the code in the final pic or click here, fill out the form and bring your bike and Venmo account to the Swap on the day. We will sell your bike for you! Need to buy? Come down and find the right size for your growing child! Also adult bikes welcome!
This year we have a number of new and old partners coming together to put on this awesome day! You won't want to miss it!
(Note: This is not a Bike East Bay event. Please contact the Bike PHE organizers directly with any questions.)